The standard Subaru Outback comes with a radio that does not have a tape player or any type of auxiliary input, making connecting an iPod impossible. I tried the Griffin iTrip, which transmits music over FM, but had very limited success. I decided it was worth it to do something more to get my iPod to interface with the car, and the only way to do that was to replace my existing stereo.

I purchased an Aiwa CD/MP3 receiver from Crutchfield because it was the cheapest unit that fit my car and had an easily accessible (front) aux input. Next I picked up two items from Belkin, their iPod Auto Kit, which uses the dock connector on the bottom of the iPod to provide power and to receive audio, and the TuneDok, which lets me mount my iPod in a cup holder.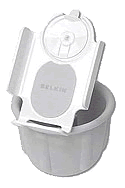 Now, if I wanted to be really fancy, I would have looked at a more permanent way to mount the iPod and to hide the power/audio cable, instead of having it go from the iPod to my cigarette lighter and then up to the aux input. but I'm not that fancy, so that's how it is.
Installing the stereo posed a bit of a challenge despite Crutchfield's nice directions because they required me to create my own adapter to go from the plug in the car to the plug in the back of the radio. Not a fun process — they provided both ends, I had to connect all the cables together and crimp them in place. A visit to Home Depot later, I was set. Everything seemed to work on the first try, and so far there has been no unexpected badness. The iPod fits comfortably by my side, a single unobtrusive cable goes up to the dash, and beautiful sound comes out of my speakers. Mission accomplished for slightly less than $200.