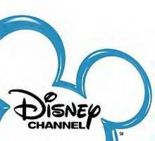 It is difficult to estimate the full impact of _High School Musical_ on the Walt Disney Company, but analysts say that the $4 million television movie produced for the Disney Channel in early 2006 has netted the conglomerate at least $500 million, and as much as $1 billion. It has been shown in over 100 countries, been seen by 170 million people, and has spawned a triple platinum album. There are concerts, a touring stage show, and, coming soon, High School Musical on Ice. There is a HSM parade at Disney California Adventure. Merchandise in every shape and size. And the rights have been licensed to 2,000 schools and local theater groups.
What did this simply plotted, pop song-studded, family-friendly movie get so right? It has been called the Grease for the modern pre-teen generation. And its enormous success caught even Disney by complete surprise, at first. But since HSM's premiere, shares in the Walt Disney Company have risen by 50%. This week the sequel, _High School Musical 2_ broke records for basic cable with 17.2 million viewers for its first showing. And HSM 3 is already in pre-production, destined to hit the big screen (instead of the small) sometime in 2008 or 2009.
"Cathode children of the 80s fondly recall a different basic cable heavyweight: Nickelodeon."
_High School Musical_ is by no means the Disney Channel's first original movie. They've produced 116 of them, starting with _Tiger Town_ in 1983. But the modern Disney Channel did not really emerge until its 1997 move from premium to basic cable. After all, cathode children of the 80s like myself fondly recall a different basic cable heavyweight — Nickelodeon, home of fun game shows, green slime, and the _Rugrats_.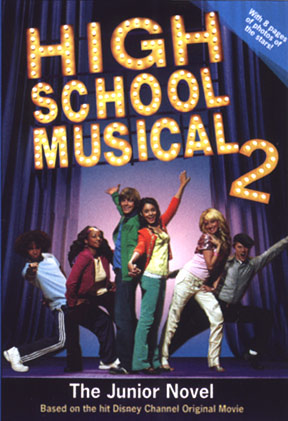 With the move to basic cable came a rebranding, a new focus on the pre-teen market, and increased tie-ins with other Disney properties. But what did not change was the advertising — up until recently Disney Channel had none at all, now it has only the occasional PBS-esque sponsorship. It is an innovative model, appealing to parents because it means kids aren't bombarded with ads for food and toys, useful to Disney's wholesome brand, and of course a great way to keep the message relentlessly focused on drawing kids in to other Disney properties, including movies, theme parks, web sites, and products.
Another Disney innovation is a throwback to the age of big studios. The network hand picks its acting talent and develops new stars. While it is easy for adults to distinguish between an actor and the character he plays, such distinctions can be lost on younger viewers. Disney counters this by grooming up-and-coming actors into Disney properties. Ashley Tisdale, for example, had several small roles and guest spots before landing _The Suite Life of Zack and Cody_ on the Disney Channel for 69 episodes. But rather than being limited to this one character, Tisdale also appeared, like other Disney stars, in short programs and interstitials on the network, playing herself. She then made guest appearances in _Hannah Montana_ and _Kim Possible_, as well as starring in _High School Musical_, all as different characters.
"Disney stars are also cross medium, a phenomenon that is by no means new but which Disney has nearly perfected."
This behavior by Disney has a self-reinforcing effect for the channel. Some viewers tune in to shows because they are interested in them, but others tune in because they are interested in one or more of the actors, and due to the constant bombardment of cross-promotion, it is almost required that kids watch more and more to take in the entire oeuvre and stay up to date on what is happening in the Disney universe and the worlds of the various stars.
Disney stars are also cross medium, a phenomenon that is by no means new but which Disney has nearly perfected. The Disney show _Hannah Montana_, which debuted in March 2006, stars Tennessean Miley Cyrus as Tennessean Miley Stewart, a 14 year old girl who maintains a secret identity as pop sensation Hannah Montana. Cyrus's real father, Billy Ray Cyrus, plays her father on the show, Robby Ray Stewart. The show has commercial tie-ins including DVDs, jewelry, and dolls. Standard marketing fare, but then it gets interesting.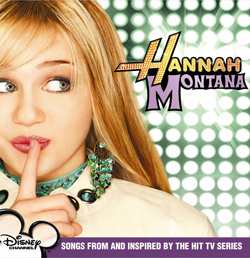 In June of 2006, Miley Cyrus appeared at Disney World *as Hannah Montana* to perform a live concert, which was later broadcast on the Disney Channel. Crowd scenes from this real-life event were incorporated into later episodes of the television show, adding a surreal quality to the fictional universe. Cyrus next toured the country with _The Cheetah Girls_, another Disney invention, opening for them — in character as Hannah Montana — on 20 concert dates. In October of that year, Disney released a Hannah Montana record, performed, of course, by Cyrus. Eight months later they released a double album: the first disk of songs by Hannah Montana, the second disk songs by Miley Cyrus, a fine distinction. Cyrus co-wrote several of the songs on the second disk. Songs from Cyrus and Hannah Montana (not to mention the Cheetah Girls) received airtime on Disney's 57 station Radio Disney franchise, which is also available on satellite radio and digital cable.
After her concert tour Cyrus took time out to help design a clothing line for the Hannah Montana brand. And starting on October 18th, Cyrus will be performing both as herself and as her character on a 54 date concert tour appropriately titled "Best of Both Worlds" throughout North America.
Lest one get the wrong impression, actors on the Disney payroll by no means appear to mistreated or exploited. They generally seem to be appropriately deferential to Disney for a decent amount of time, their relationship with the network gradually morphing in a clear progression as they gain notoriety and Disney extends to them more equity in the form of executive producer roles and other royalties. Disney-made stars often strike out on their own after several years with the network, which fits naturally with the model as the aging actors become increasingly difficult to cast in the teenage roles appropriate to the Disney Channel demographic.
The Disney Channel has gone in a few short years from an also-ran to a behemoth of the pre-teen demographic and, to some extent, the basic cable ecosystem. _High School Musical_'s success was unexpected in its scope and reach, but it can be seen as a natural progression of the evolution of the Disney Channel and the Disney brand as it does a surprisingly competent job of repositioning itself for modern audiences. Children who grow up loving Disney become customers for life, and the Disney Channel is an enormously powerful tool for winning that loyalty. Much can be said (and has been said) about the various and sometimes staggering failings of the Disney corporation, but there are two things in particular that make the future of the company seem far more optimistic: the multi-year partnership and eventual acquisition of Pixar, and the long game success of the Disney Channel.