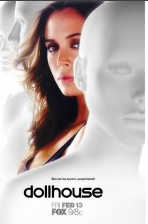 The pilots (first episodes) of Buffy the Vampire Slayer and Firefly are both notable for being narrow. You're not going to get a mass ER-like audience from a story that starts with a vampire bite, much less from one that opens on a silent space salvage operation. You are going to get a genre audience, and that audience may well turn out to be a devoted one, but it will never be a large audience.
With Dollhouse, Joss Whedon seems to have embraced the network meddling that has so bothered him in the past. The open is a motorcycle race, followed soon after by sexy dancing, naked showering, a hostage crisis, shooting… Only once or twice does authentic "Whedon" writing shine through. The rest is equal parts FOX network filler, pandering, and standard tropes. The concept of the "dollhouse" is never adequately fleshed out. The sets and the stars are pretty, but the show is shallow.
Still, the creation, while flawed, is not without merit. It just isn't exceptional. And much the same can be said about playwright and composer Jason Robert Brown, whose latest show, 13, recently ended its brief Broadway engagement. Brown's previous works include the heartfelt Songs for a New World and the raw and emotional Last Five Years. All of his shows have had devoted fans, but not the sort of broad appeal that would carry them to Broadway. With 13, Brown made a conscious choice to aim lower, or, at least, broader. He made something that was good, that had merit, but that was not truly exceptional. It made it to Broadway, after many changes, and had a brief run before closing in a dismal economic climate.
Joss Whedon's Dollhouse will follow the same pattern. FOX has committed to a 12 episode run, but each week the audience numbers (in the Friday evening "death" scheduling slot) are shrinking. It is unlikely that the show will come back for a second season.
What is the lesson here? That people who make deep and meaningful and heartfelt work are doomed to be marginalized? I don't think so. I think that when it comes to art in modern society, we are no longer in an age where everyone likes, or pretends to like, the same thing. We no longer go from a period of Impressionism to the Heidelberg Schol and then on to Arts and Crafts. Our choice of media is so vast, our interests so varied, the number of artists so many, that we can't judge things the way we used to. Joss Whedon, or Jason Robert Brown, can create truly good shows, and they can affect half a million people deeply, and that is nothing to scoff at. Shonda Rhimes can create Grey's Anatomy and it can touch 20 million people lightly. But Joss Whedon probably can't create Dollhouse and touch 20 million, or even 10 million. He isn't that sort of entertainer. The lesson of Dollhouse, for Joss, is the same as Pushing Daisies for Bryan Fuller, and Veronica Mars, for Rob Thomas. Do what you do well, do it well, and find a good place for it. That place may not be a major television network. Pour your heart into it. Affect people. Don't compromise. Hope for the best. And don't try to be what you are not.
If that isn't enough, if you really want that big huge break, the adoration of millions, then take comfort in this: some of the best artists of the past were never truly recognized until many years later. For what it's worth.