I am writing now from La Fortuna, several hours inland by car from our previous location on the western coast. To get here, we traveled over major (paved, two-lane) highways and smaller (packed dirt, one- and two-lane) roads. We frequently had to cross what one local called "oh my God" bridges: narrow, single-lane water crossings with no side rails. Traffic lights are very rare, "stop," "caution," and "yield" signs are frequent.
In Guanacasta we did our first major tourist thing, which was a package that the tour company called the "Mega Combo." After a two hour drive to Rincon de la Vieja we took a treacherous trail on horseback down to a secluded hot spring. One of our number found the experience a bit too exciting and left his horse behind. He quickly discovered that the journey on foot was far more treacherous and had to meet up with a tractor along the way.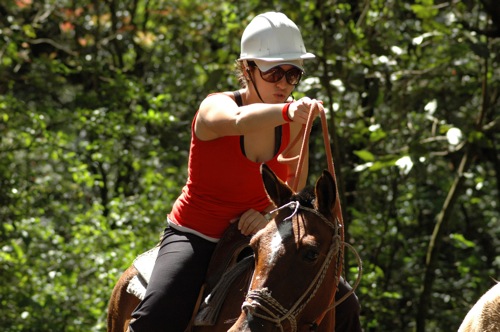 The forest and the springs were beautiful, although I chose to forego the mud bath. After an hour, though, we were ready to move on to the next mega destination, a quarter-mile long water slide. Which was a blast. Everyone went twice.

Next up, ziplining. There were eleven platforms suspended in trees high above the floor with great views of the forest canopy. We saw a few monkeys, but not much else, unfortunately. We were each outfitted with a climbing harness, rope and pulley, and a safety rope. At each platform a guide would attach our safety rope to a secondary airplane cable and then we would do a pull-up so that the could hook us to our pulley on the primary cable. One hand rests on the line attached to the harness, one on the zip line behind the pulley. Cross your legs, lean back, and use your back hand (with a thick leather glove) to slow your descent. Very fun, great views, and easy to do. Despite what the picture implies, we were actually quite high off the ground.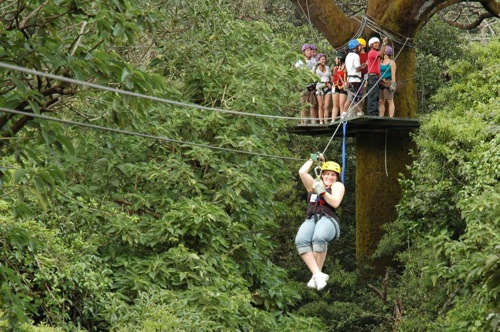 Ziplining really is a blast, and with any luck we might do a bit more of it before this trip is done. And that wraps up the "Mega Combo." It was super typical! (As they say on the signs for their markets here).
Tuesday was an in day at the hotel: pool, kayaks, cooking class, and the like. In the evening we rented a car and headed down to Playa Grande to sit around for several hours waiting for wormsign turtles.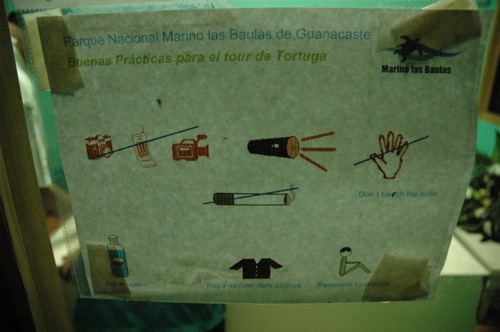 The huge leatherback turtles (measuring 1-1.5m in length) return to the beaches on which they were hatched in order to lay their eggs. In the early 90s a thousand turtles a year would come to Playa Grande to make their nests, now that number is far lower. We were not allowed to bring lights, cameras, or cell phones and had to keep quiet. When a turtle was spotted we were led to the beach and allowed to stand within half a meter of the huge mother turtle as she slowly dug her nest with her back legs and then dropped over sixty eggs into it, before burying them in the sand. We were not allowed to stay to watch the turtle return to the water (nor were we allowed to take any pictures, and I almost got a "ticket" for bringing my camera along). Still, it was a pretty neat experience. I can only hope when I bring *my* children to Costa Rica some day there will still be turtles left to visit.
Next time: Germans! Rafting! Volcanoes! Mosquitos!