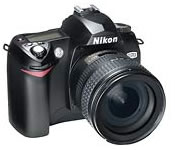 I've now had my Nikon D70 digital SLR camera for almost three years, and in that time I've taken about 600 photos that I have considered worthy enough to put on Flickr (some of which I have not yet posted). It looks like after listing fees and shipping and such, I could get about $400 on eBay for a camera that originally cost me closer to $1000, meaning a 60% depreciation or, put another way, each of those pictures cost about a buck apiece.
I love my Nikon D70, but a few months ago I made perhaps not the wisest decision in the world, purchasing a pretty amazing telephoto lens that, while powerful and convenient, also adds additional weight and bulk to an already weighty and bulky camera. As a consequence, I find I'm now even less likely to take my big, heavy, expensive rig with me when I go places. And there's not much point having an amazing camera if you never take it anywhere.
So I'm thinking I might be putting camera and lens up on the auction block and "downgrading" to the smaller, cheaper, lighter, cuter Nikon D40. Being able to worry less about the heft and price of the equipment means being able to worry more about taking good pictures, which is really the point. Or am I crazy?